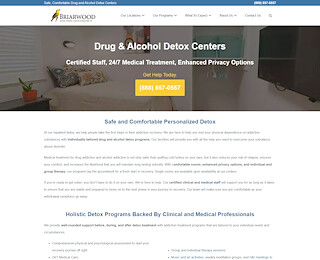 While the Austin alcohol detox process is simple in theory, it's a different story in practice. At Briarwood Detox Center in Austin & Houston, we have seen numerous people taking matters into their own hands and resorting to self-detox, creating more problems than they can handle. So, how can you detox safely from alcohol addiction, and what are the steps to follow? Here are the most critical ones to remember:
Avoid detoxing at home
Self-detox is probably the most damaging concept when it comes to drug or alcohol addiction. The people thinking they possess the knowledge and expertise to battle the withdrawal alone and use medication to counter its effects always make things worse. They risk developing new addictions, encounter severe drug interactions and side-effects, and almost always relapse due to improper treatment.
We recommend avoiding self-detox methods and, instead, coming to our Austin, TX, detox center today. Our team of competent clinicians offers targeted drug and alcohol detox in Austin, TX, in a controlled and comfortable environment for sustainable recovery. This will not only ensure the procedure's success, but it's safety as well since our professionals will supervise your progress throughout the process.
Don't hide information
You will undergo thorough screening and medical assessment upon arriving at our Austin detox facilities as part of the intake phase. During this stage, our clinicians will ask for detailed information about:
Medical history
Addiction specifics (the substance you're using, how long you've been using it for, withdrawal intensity and symptoms, etc.)
Behavioral, emotional, and mental changes
History of mental health problems or active psychiatric issues, etc.
All this information will help our experienced clinicians devise the best detox for addiction in Austin, ensuring your safety throughout the treatment. If you keep your mental issues away from our experts or lie in your application form, the treatment's reliability and success will suffer accordingly. We recommend 100% honesty and transparency during the intake process to make sure you will receive the best treatment, allowing you to recover and detox safely and effectively.
Always stick to our experts' recommendations and advice
The drug and alcohol detoxification program is a volatile process where a lot of things can go wrong. To ensure safe and reliable recovery, you need to abide by our experts' recommendations both during and after the treatment. Patients respond differently to treatment, which is why we always rely on personalized approaches to harness the ideal results.
Our experts may recommend inpatient care or outpatient services after detox, and it is in your best interest to follow their advice. The same goes for following our guidelines during the detox treatment when your compliance and cooperation are key for smooth and sustainable recovery.
If you need safe Austin alcohol detox, we recommend contacting Briarwood Detox Center in Austin & Houston today! You can talk to one of our counselors at 512-768-6822 to discuss your payment and treatment options or ask for details about insurance coverage and detox specifics. Begin your detox treatment and start reshaping your life today!
Briarwood Detox
(832) 662-8042
1019 Ashland St
Houston
TX
77008
US